Meet Your Farmers: Scott Saitta & Mel Treichler of Rebel Moon
We're stoked to present to you the third blog entry in our new "Meet Your Farmers" series here on the Mendocino Generations blog! Mendocino Generations is an alliance of over 60 permitted farms — all unique in their very own way. From their appellation, to their product, growing techniques and more, we delve deeper to develop a more connected appreciation for the amazing farmers who collectively comprise the Mendocino Generations Family. This month, we're excited to introduce you to Scott Saitta & Mel Treichler of Rebel Moon. We had a few questions for Scott & Mel and here is what they had to say…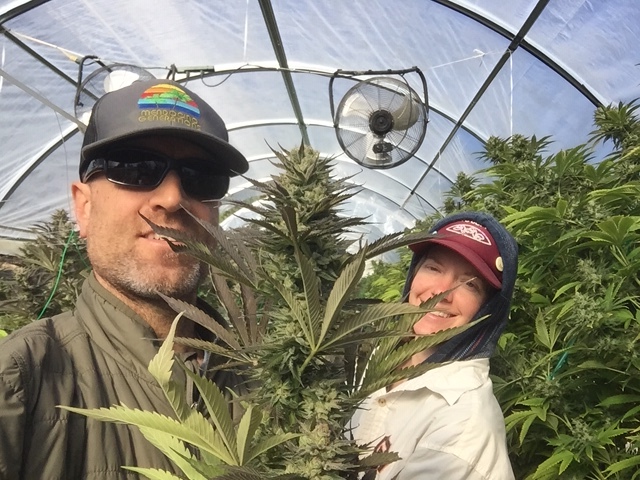 Q: Please introduce yourselves. How long have you been a members of Mendocino Generations?
A: My name is Scott Saitta, owner of Rebel Moon, which is located at 2200 ft elevation in the western hills, outside Willits, CA. My partner Mel Treichler and my long time friend Andy Cox make up our team here at Rebel Moon, and don't let me forget the boss dog, Winston, our 12 year old Golden Retriever. We've been members of Mendocino Generations for about a year.
Q: How did you get your start in farming Cannabis?
A: My start farming cannabis, as with most, started with a seed. It was almost 25 years ago, in the Midwest, when I got my first real taste of "the kind". I found a seed in a bag of Blueberry and that's when it all began. Without the internet and only a limited amount of literature on the art of cultivation, I turned to Ed Rosenthal's "Marijuana Growers's Handbook". This book gave me the basic knowledge needed to start a seed and see it through until harvest. I planted two small seedlings on the edge of a tree line, underneath power lines, deep in the Missouri wilderness. I would water these plants about once a week and began to fall in love with just watching the plant grow. I harvested in late September and got about 1/4 ounce off both plants, and to me, at the time, that was amazing! I can still remember the taste and smell of that Blueberry, I think its ingrained in my DNA! Somehow that Blueberry produced one more seed, which I planted the following year, and with that, the cycle continued, and continues to this day.
As my love and commitment to the plant continued in the Midwest, the thought of having my freedoms stripped for just following my path made me realize I needed to find a place that accepted cannabis for what it is. After graduating college from the University of Missouri in 2002 with the seeds that I created, I packed up my car and headed west, never looking back. My goal was to find a place on the coast, close to the ocean, where I wanted to learn how to surf and expand my knowledge of the cannabis plant. With its progressive cannabis laws, amazing coast line, and rural setting, Mendocino county was a perfect fit!
I was lucky enough to find a house close to the coast, which allowed me to continue my relationship with cannabis as well as being able to learn how to surf. In 2007 I partnered up with three other people in search of a piece of property to grow medical cannabis. After a few months of searching, we found the piece of property located in the western hills, outside of Willits. As the years went by, and the trials and tribulations of life presented themselves the partners began to fade away. The failing partnership left me as the sole owner of the property, a blessing in disguise.
The property has a long history of farming cannabis, dating back to the late 70's. The original owner, a local legend, and fifth generation Californian, was commonly referred to as "The Pioneer". He harnessed the properties natural setting to live off the grid, using solar and hydro power before they were readily available, he was a true pioneer of the time. Rebel Moon is proud to continue his legacy, maintaining a strong devotion to sustainable living and being in sync with our natural surroundings. From underneath the power lines in Missouri where it all started, to the hills of Mendocino County, my love for the cannabis plant and my hunger to learn more has only grown. With hard work and determination Rebel Moon is committed to keeping the legacy alive.
Q: What makes Rebel Moon unique?
A: In a time when Corporate Cannabis is trying to take over, Rebel Moon is determined to stay true to who we are, and we pay tribute to the pioneers and rebels that paved the way for all of us. By continuing in an industry whose environmental footprint is getting larger, we pledge to leave as small a footprint as possible, while growing the highest quality cannabis available.
Q: Which strains are you growing this year at Rebel Moon?
A: The strains we grew this year, Candyland, Jilly Bean, Tangie, Sour Diesel, StrawberryBanana Sherbert, Gorilla Princess x Lemon OG, Berry G'oood.
Q: How would you describe your journey to compliancy this year in California?
A: Our journey to compliancy has been nothing short of agonizing! From the ever changing regulations to the never ending, unexpected expenses that have come with the process, it has, without a doubt been one of the hardest things I've ever been through in my life. Like so many others going through the permitting process, I've put it all on the line, and looking back on it, I wouldn't change a thing. As I reflect on the past 2 1/2 years of becoming compliant, I realize that no matter how hard it gets, this is the path I chose over 20 years ago, and I'm so grateful to still be doing what I love.
Q: Tell us about your farming techniques: newts, sun / indoor, etc.
A: We grow mostly Light Dep in hoop houses, which means we can have multiple cycles a season. Our appellation tends to have coastal influence, which includes steady light winds throughout the grow season as well as more moisture and cooler temperatures compared to the valleys. Sitting at 2200 ft, we stay above the Willits fog, most of the time. All of these factors help create an amazing environment for cannabis, maintaining the terpene profile of the strains we grow. We grow in pots and have been reusing the soil for years, amending it with Glacial Rock Dust, Earthworm Castings, Kelp Meal, Fish Meal, Crustacean Meal, Feather Meal, Nitrogen Bat Guano, Phosphorus Bat Guano, Humic Acid, Biochar, Oyster Shell and Granular Mycorrhizae.
As we expand our canopy space, we plan on experimenting with raised beds, keeping our sustainable farming model and small footprint as the base for all of our decisions. We use only organic inputs and do not use any pesticides or fungicides. Introducing beneficial insects which allows for natural pest control and is a big part of our Integrated Pest Management. We also feed with compost teas throughout the cycle. Our main goal is to grow the highest quality cannabis using many of the same sustainable and organic farming techniques that have been used on this property for over 40 years.
Q: Is there anything else that you'd like to share with us?
A: We are proud to be a part of Mendocino Generations and the cannabis community. We stand proud with the small farmers of the region and feel extremely lucky to be a part of this movement.
MG: Thanks so much for your time, Scott! Rebel Moon is truly an inspiration and it's great to hear how dedicated you are to your craft and the Mendocino Generations Family. We look forward to hearing more from you soon.
Want to know more about Scott & Mel of Rebel Moon? Follow along with their journey as Mendocino Generations cannabis cultivators by following Rebel Moon's Instagram Page here. Have a Mendocino Generations farm you'd like featured on the blog? Let us know by writing Chiah@MendocinoGenerations.com.